Genital warts during pregnancy
Genital warts are created in cervix and caused by the human papillomavirus (HPV),that is diagnosed by Pap- Smear test. Thus virus can result in uterine cancer.
Genital warts divide into 3 categories:
Those patients who don't have background of genital warts and want to have children.
Some women have partner with genital wart problem. If women take Pap- Smear monthly, the gynecologist can control their signs and symptoms.
Those women who have background of genital warts and want to have children.
Patients should discuss with their doctors, because changes can be worsen during pregnancy.
Those women who have pregnancy with genital warts problem.
In these cases, there is risk of virus transmission to the fetus. If intensification abnormal changes in cervix, doctor postpones the treatment, because it can cause premature childbirth.
Hormonal changes during pregnancy can cause to enlargement warts and increase number of the warts. So, women should control by their doctors during this period. If seeing bleeding from the warts, treatment is postponed after the childbearing.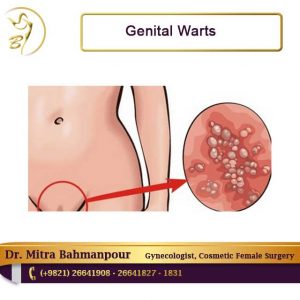 Childbirth and genital warts
There is low risk of transmission in childbirth. Babies can exorcise the virus. But some doctors believe that, it's better for women to have caesarean section to prevent impact of genital warts on babies.
It should be noted that, there are some waste on the skin that are visible. But some warts are not diagnosable for both patients and doctors. Some of them are as follows:
Are so tiny and needs magnification to see them.
Warts can see in both men and women.
Warts that are inside the vagina.
Warts on the rectum.
Warts on the groin creases and skin creases.
Inenarrable warts around or inside the mouth.
Contact Dr. Mitra Bahmanpour, Gynecologist
Address: Khalij Fars Building. Next to 18th st. Velenjak. Tehran. Iran
Tell: +9821- 26641827
+9821- 26641908
+9821- 1831
+98912- 0897425