Monsplasty
Monsplasty, also known as pubic lift, is a surgical procedure used to reduce and lift the Mons Pubis. Monsplasty is performed for both cosmetic and functional reasons to return the mons pubis to its original position.
Monsplasty also is done with labiaplasty or cosmetic abdomen surgery. Pubic area becomes large due to aging, childbearing or over weighing and affects on function of the genital system and its appearance.
Enlarged pubic mons creates more problem during sexual intercourse, urination or wearing tight clothes. Dr. Bahmanpour recommends performing surgery to treat this problem. During surgery, tissues and muscles of this area becomes strengthen and weaken skin returns to its primary form.
Who are good candidates of monsplasty?
Some women struggle with a bulge of excess skin and fat in the mons, these are good candidates of monsplasty. Women should be healthy and mature and have real expectations.
Consultation before surgery is so important. Sometimes you don't need to do surgery or have wrong belief about removing this area. During these sessions your gynecologist, evaluates all aspects and ensures you from result of surgery.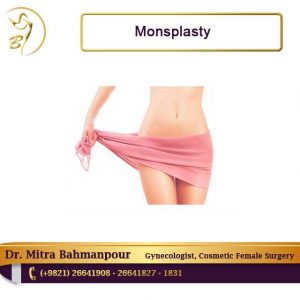 Benefits of monsplasty
–    This is a safe and secure surgery
–    Removes skin prolapse and enlargement of pubic mons
–    Returning normal urinary function
Monsplasty recovery
Recovery takes about a week, with physical activity restrictions for two to six weeks, depending on the extensiveness of the procedure. If skin is removed, a drain or two may be placed, with removal typically scheduled within the first few days.
Contact Dr. Mitra Bahmanpour, Gynecologist
Address: Khalij Fars Building. Next to 18th st. Velenjak. Tehran. Iran
Tell: +9821- 26641827
+9821- 26641908
+9821- 1831
+98912- 0897425